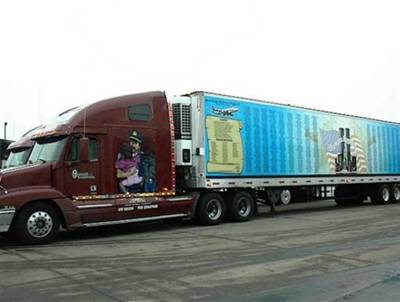 Rolling 911 Memorial

It has come to my attention that some of my readers love trucks.
So, as promised, here is the
"Utimate Truck".
I received this in an e-mail from an old friend, so to save myself the trouble of typing a whole lot, I'll just paste the contents of said e-mail here. To see the other pictures in the series, just click
here
. (
Thanks to scroff & ruthalla at
Any Which Way
for hosting the album!)

This truck was awesome. You can decide whether or not it is. Here is some info from the owners/operators. Their names are John & Amy Holmgren. They live in Shafer Minn. They thought this would be a nice tribute to the people that lost their lives. It has every name of each person that lost their life on 9-11. This concept was thought up by John and Amy, and totally paid for by them. John says he will be awhile paying the loan off that he had to take out to do it but, thought this was the least he could do. Applied Graphics in Fargo ND did most of the work and Paul Kosenski did the Hand painting. He said that he got to meet the Country Singer Darryl Worley, who Sang the song "Have You Forgotten" and has gotten pulled over 3 times by the police just to get their picture taken by this truck. (I would have pulled him over too!!) It is called the Rolling 9-11 Memorial, it has all the names of the people that were killed on that day and the flights they were on plus some other graphics on the side of the Tractor.
How do you like
this
truck, Mikey?
deuddersun